Copyright © 2014 Countertop Brackets Online All rights reserved

UV-C Light Wand Kills 99% Of Germs On Granite Countertops
Pass the light wand over any household surface to kill 99% of germs and keep your home healthy and clean.
UV Light is the easy way to destroy bacteria, viruses, mold, and even dust mites. Stop the spread of infectious diseases, with a simple wave of the uvc light.
Disinfect granite tops, eliminate odors, clean hotel beds, and stop shoe odor ... all with ultraviolet light.


Order the Germ Guardian at Amazon.com


Ultraviolet light disinfection
has been used safely in hospitals, clinics and laboratories for more than 60 years.




Guidelines For Cleaning With The Germ Guardian UV-C Light
Mattresses, pillows, bedspreads: Vacuum first, then hold UV-C Light Wand 2 inches above surface and move the wand over 12" sections for 20 seconds each.
Animal cages and bedding: same instructions as human bedding
Personal hygiene items: Hold UV-C light near toothbrushes, razors, combs, and other personal items for 10 seconds.
Bathroom toilet and sink: Hold light wand 2" above surfaces and slowly move over entire surface for 20 seconds.
Kitchen items: Expose knives, utensils, cutting boards, and other cooking items closely for 10 seconds.
Household items that get touched by hands: computers, phones, doorknobs - hold wand at 2" distance for 10 seconds. Hold over garbage cans for 20 seconds.
Shoes: Once a week, expose shoes to light wand at close distance for 5 minutes to kill the germs that cause odors. Also expose the soles of shoes which carry much of the bacteria into a home.
Germ Guardian ultraviolet wand kills germs on granite counters in seconds!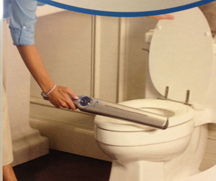 36 of 39 people found the following review helpful:
I am very impressed with the effectiveness of the Germ Guardian 18" wand. I didn't give it 5 stars because it is a little back breaking to use if you are sanitizing a low area. When I took it to a hotel on vacation, I used it in the shower and could smell it killing the who knows what that was there. My pet toys, beds, personal hygiene items, computer, cell...